If you've been hesitant to join in a writer's group because you feel like your writing isn't as good as everyone else's, or you don't want to be embarrassed by criticism, read these amazing pieces of prose and poetry by K. P. McGee about her experiences at the Women's Daily Post Writing Salon, with Susan Weis-Bohlen. The Salon is a nurturing place for women to feel creatively supportive and for you to finally start putting the words in your head onto paper.
From Karen P. McGee, thoughts on her way to the Writing Salon:
"You're not a writer! These women have probably been writing for years. It's only $15, just put the car in reverse and go get an iced coffee at Corner Pantry instead!"

The gremlins in my head were working overtime.

As I pulled into The Ivy Bookshop parking lot for my first writing salon they were trying their best to drown out any trace of the positive voice I used to overcome my self-doubt and register for the class in the first place. I had participated in only one online writing circle before this, but that one didn't include feedback and there was always the option of "internet issues" if I needed an emergency exit.

I am so glad I didn't listen to those gremlins!

Three weeks in and I feel like I've known these interesting and wise women for years. Susan sets the tone with her calm and encouraging demeanor, allowing us to center ourselves so that our creative juices flow as we write around her thought-generating prompts. I have found it to be both healing and empowering to listen to others' stories and to read my own words out loud. I now know that you don't need to be a "good" writer to participate, just an honest one.
I still get nervous each time we start to write, but also look forward to the kindness and camaraderie that unfold afterwards each week.

– Karen P. McGee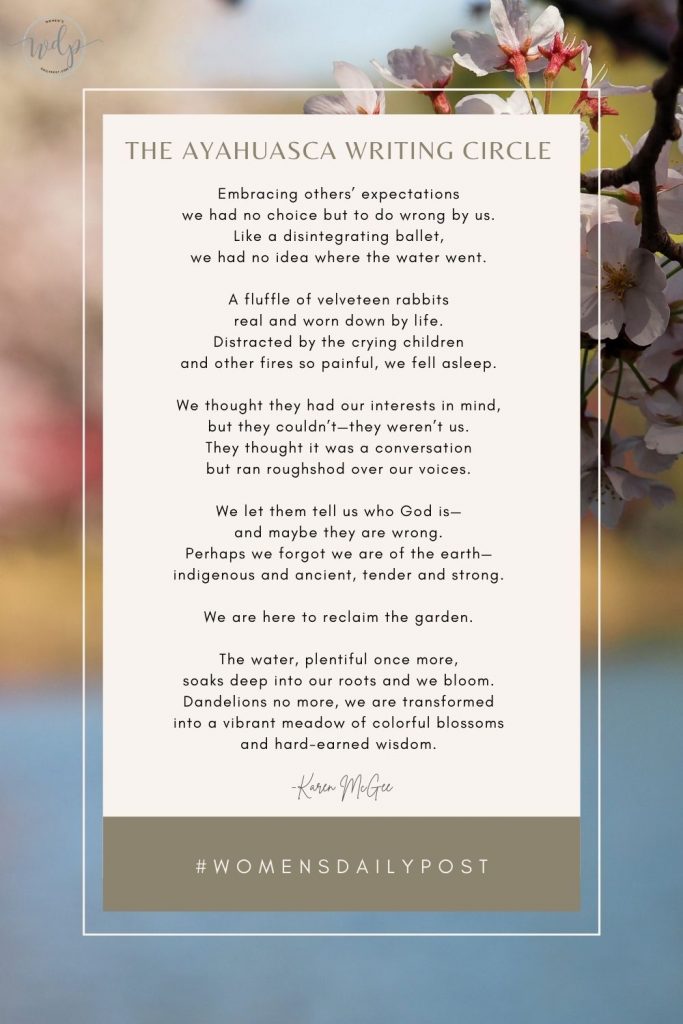 The Ayahuasca Writing Circle
Embracing others' expectations
we had no choice but to do wrong by us.
Like a disintegrating ballet,
we had no idea where the water went.
A fluffle of velveteen rabbits
real and worn down by life.
Distracted by the crying children
and other fires so painful, we fell asleep.
We thought they had our interests in mind,
but they couldn't—they weren't us.
They thought it was a conversation
but ran roughshod over our voices.
We let them tell us who God is—
and maybe they are wrong.
Perhaps we forgot we are of the earth—
indigenous and ancient, tender and strong.
We are here to reclaim the garden.
The water, plentiful once more,
soaks deep into our roots and we bloom.
Dandelions no more, we are transformed
into a vibrant meadow of colorful blossoms
and hard-earned wisdom.
– K. P. McGee
Some parting thoughts…
If you need any more encouragement to sign up and join the group, two other members share their experiences:
"I am by no means a writer, but I was looking for a creative outlet. I am loving this class. Susan sets an amazing tone with exercises that anyone can do. She succeeded in creating a safe space where women of all different skill levels are able to experiment and share their work. Thank you, thank you for putting this together!" – Ana Goldseker
"I have a Masters in English and I've been in a bunch of writing workshops. There's usually a lot of encouragement and I think most teachers do their best to make critical feedback productive, but there's always the danger of accidentally being crushed. Susan's Gateless method sets up some boundaries that allow a lot of freedom for all levels of writers. Keeping all of the feedback positive eliminates the fear of criticism or not being good enough, and structuring the feedback to address the author rather than the person creates another level of safety. The writing snob in me was suspicious of a workshop that doesn't focus on what you could do better, but the beautiful thing I've observed is that strong writing can happen without critical feedback. It eliminates the parts that can be terrifying about a workshop even for experienced writers and highlights what can happen when you insist on only focusing on strengths. Each week the work is powerful and honest and the guidelines seem to provide a framework that writers can really let loose in." – Courtney Proctor
The Women's Daily Post Writers Salon meets on Friday mornings in the garden at the Ivy Bookshop, 5928 Falls Road, Mt. Washington. Register here.