You might say it was fate. Almost thirty years ago, a friend asked Geri Olsen to volunteer with her. Geri's kids were getting older and she was looking for something new to get involved in. She said yes and gave the organization a call to learn more.
Except she called the wrong one.
Instead of calling St. Vincent DePaul, she connected with St. Vincent's Villa, a Catholic Charities of Baltimore residential treatment program for children 5-14 with significant emotional, behavioral and mental health challenges.
"I can honestly say it was one of the best mistakes I have ever made in my life," said Geri. "Every person I came in contact with at St. Vincent's was so warm and welcoming and it was clear that I had found my calling. And here I am, 29 years later, and my heart still says I BELONG."
In a way, connecting with St. Vincent's allowed Geri to fulfill a high school prophecy. As a senior at Franklin High School in 1959, Geri was asked "If you had all of the money in the world for a Christmas gift, to whom would you give it and what would that gift be?"
Her answer? "I would make every child's Christmas wish come true."
Since becoming a volunteer at St. Vincent's, Geri has done just that. For almost three decades, she has spearheaded their holiday giving campaign, collecting gifts, organizing the purchase of basic needs from holiday wish lists, and securing gift cards for the almost 80 children residing at the center. Over the years, her entire family — children and now grandchildren — have gotten involved.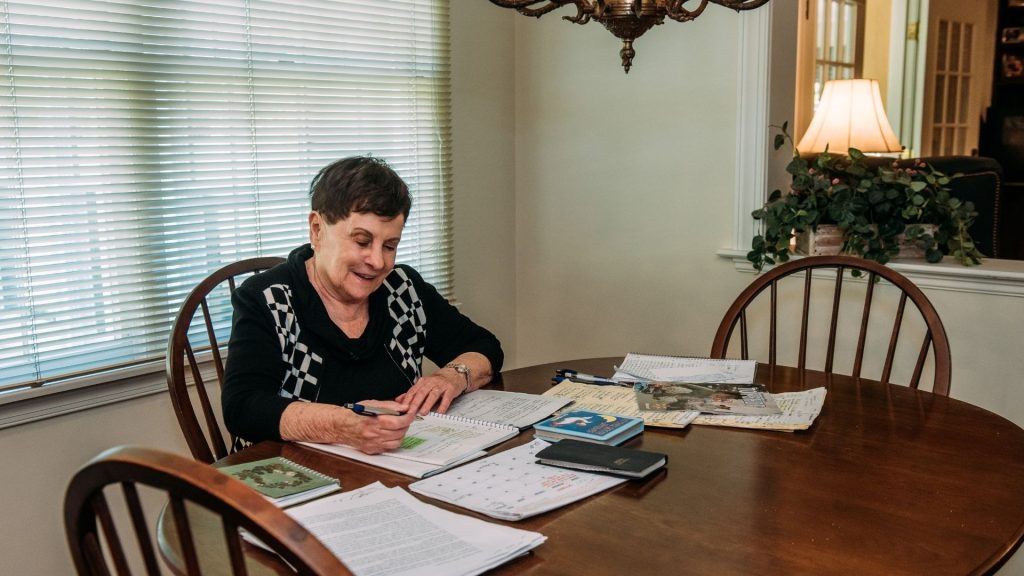 "Family is everything to me and nothing warms my heart more than to see the different generations in our family join me in spreading love and kindness to the staff and children at St. Vincent's,' said Geri.
Beginning each fall, her kitchen table turns into a command center. Geri reaches out by phone to all of the donors who have participated in previous years and ones she hopes to connect with this year. She carefully records notes, gifts, donor information, and collection plans in a $.59 notebook from ShopRite. After the gifts are distributed, every person who participates in the program receives a handwritten thank you note from Geri.
She certainly doesn't do it alone and credits a small army of friends and family that has helped her evolve and expand her commitment to St. Vincent's every year. But its Geri's spirit of giving that really makes the magic happen.
Geri has many names. To the kids at St. Vincent's, she's their real-life Santa. To the kids in the neighborhood, she's "Gig," who always has her kitchen stocked with Gatorade and cookies for after school snacks. For the staff at PNC Bank in Jacksonville, she's Mrs. Olsen, the patron who carts in a Foreman Grill and treats everyone to hot dogs for lunch, just because. Trash collectors and postal carriers know her as "the nice lady from Doe Court" — who frequently leaves homemade cookies and brownies for them in her mailbox as a thank you for their service.
Giving simply defines her and her generous spirit.
Every act of kindness comes with a handwritten note from Geri with her favorite quote: "It's nice to be nice."
Editor's Note: To help Geri spread Christmas joy at St. Vincent's this year, donate through their website. Photos by Jen Snyder.