Spring is in the air! Time to put away the winter woolens and welcome the season with airy, fresh pieces for your wardrobe. We headed over to the stores at Green Spring Station in Lutherville, Maryland with WDP members Ashley Day & Kristen Cooper to see what great outfits we could find for spring.
Ashley and Kristen have very different styles and we knew it would be fun to pick out outfits that suited their personalities. Mikey Monaghan and Betsy Royall Goodhue approached it all like a scavenger hunt. We selected the pants for Kristen, picked out three tops, dashed off to Matava for the shoes, and scouted for accessories. Our friends, Owen Michael and Lori Gottlieb were on hand – Owen to do makeup for our ladies and Lori to change up some looks with her huge selection of unique jewelry designs.
On Kristen Cooper
Kristen loves casual dressing, and as publisher of Towson Lifestyle Magazine, she needs comfortable clothes that go from the office to her busy family life. We wanted to find a perfect pair of sassy "staple" pants and then match them with three different tops and accessories to make great looking and comfortable outfits.
These pants from Panache fit the bill.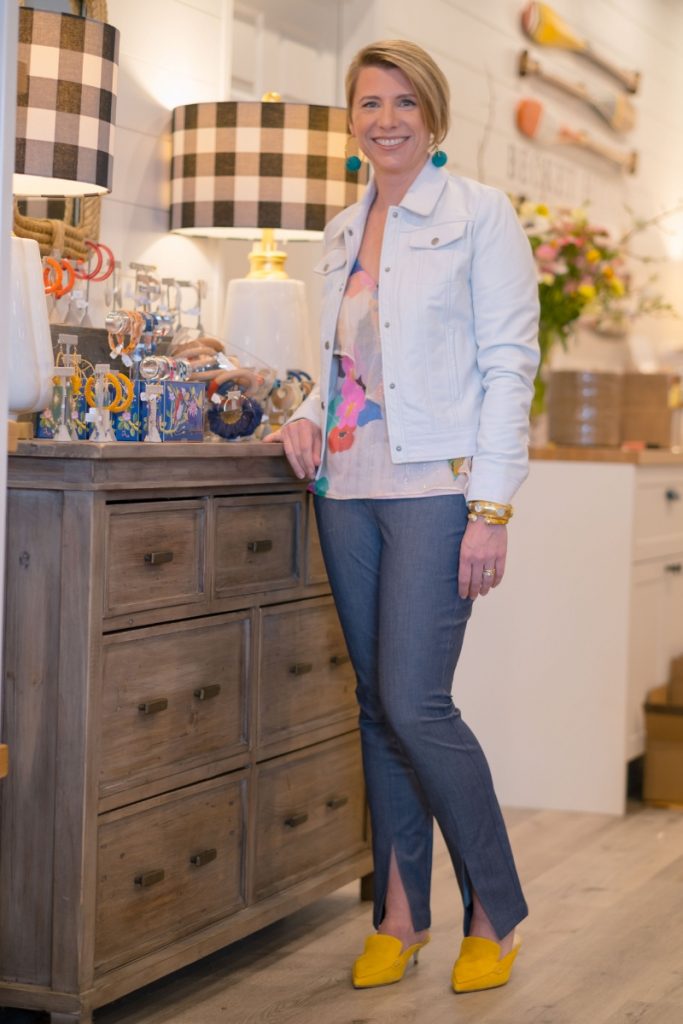 We mixed up the tops, shoes and jewelry.
A leather jacket paired with a sparkle tank blouse is perfect for a day at the office. Change to an embroidered top for a weekend outing with gal pals. And the silk top gives a dressier look for Date Night.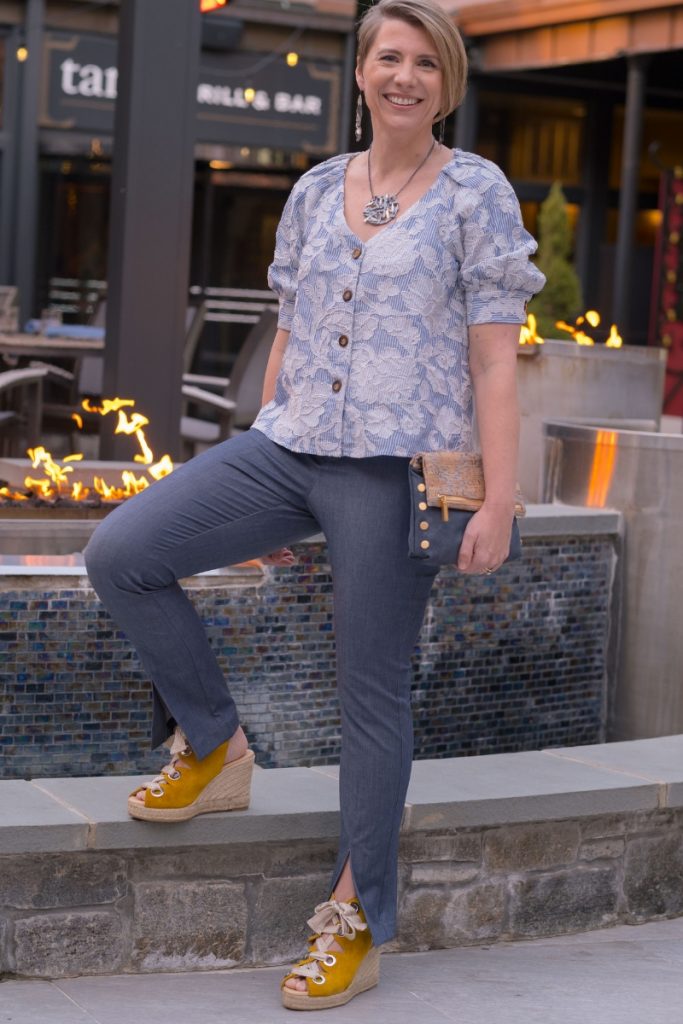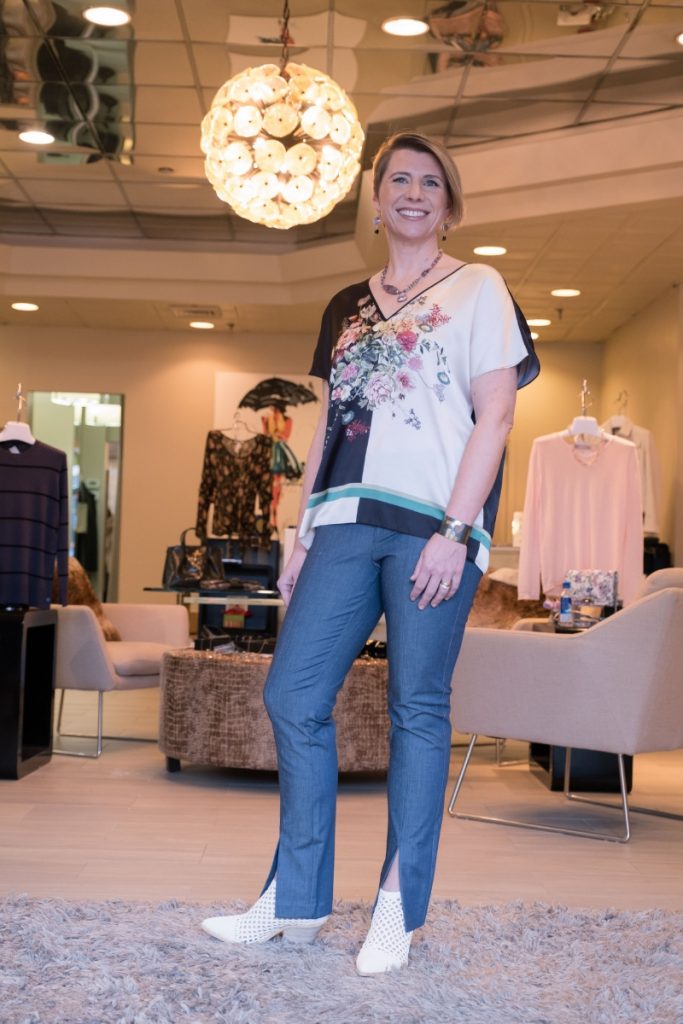 All of these pieces from Panache. Yellow suede mules, gold espadrilles and cream luscious booties from Matava. Earrings and bangle bracelets from Becket Hitch. Statement necklace, earrings and cuff bracelet from Lori Gottleib at Panache.
We think Kristen looks great in everything! Which look do you like best? Would you wear it?
On Ashley Day
Ashley has an adventurous style – she likes bright colors and statement pieces and is not afraid to try something that will turn heads.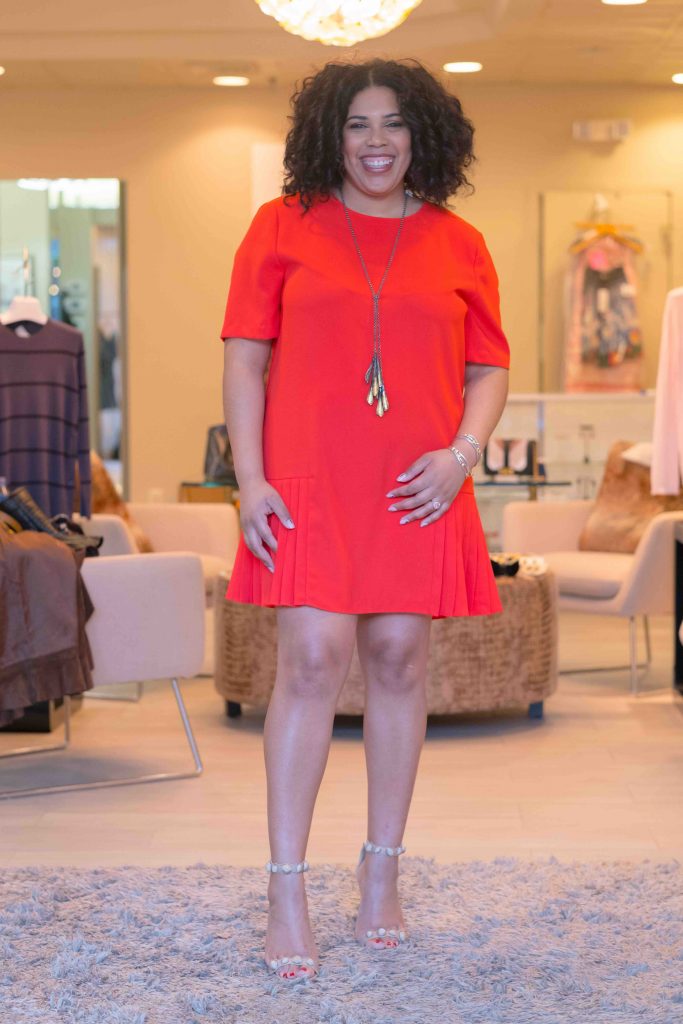 We asked Ashley to surprise us in a dress of her own that she would wear to a work event and that we could accessorize. Lori jumped on that beautiful red dress and went to town! We added a white leather sparkle jacket from Matava.
Ashley rocks a leather bomber jacket that she has hand lettered with "Ms. Role Model" – her signature piece of clothing. So when Mikey and Betsy got to Boutique W and saw the lavender leather jacket, we knew that was our "staple" – perfect for Ashley's style. Pure heaven – it feels like butter! But its price point happily surprised us all – making it a perfect choice to dress up or down, keep you warm during our unpredictable spring weather and make you feel great all spring.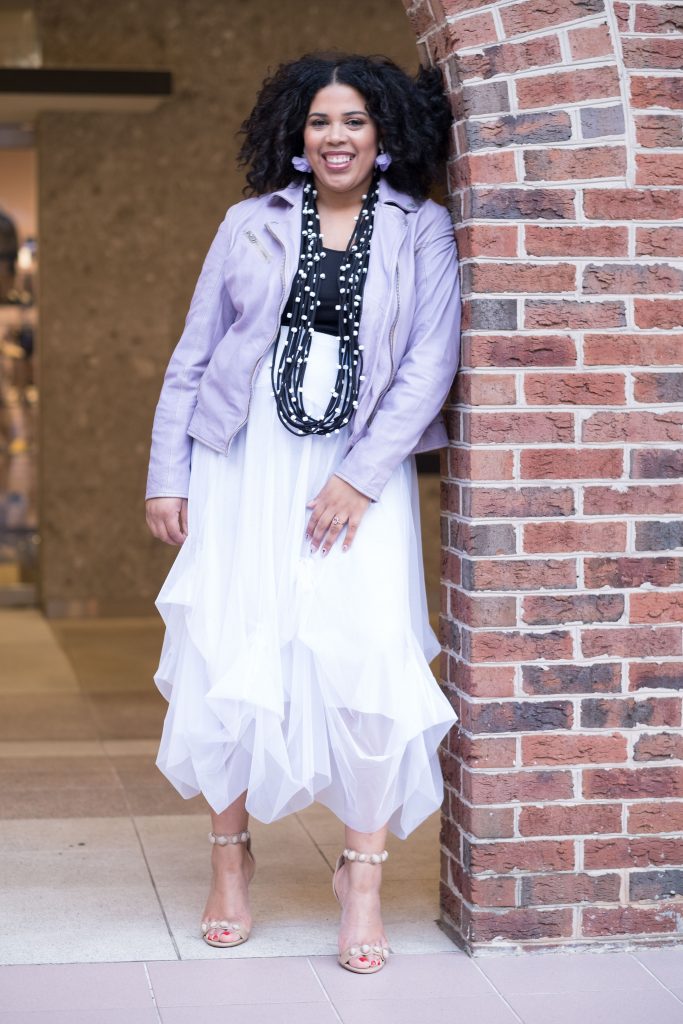 For a date night look for newly-engaged Ashley, we paired it with a white, flowing tulle skirt and a black tank top from Boutique W and complemented it with a black and white necklace and lavender earrings from Becket Hitch. It looked like it was all made especially for Ashley.
Do you have an outfit like this – one that is full of surprises that work together perfectly?
Whew, it was a whirlwind evening of fashion and fun at Green Spring Station! It was one of the first beautiful warm evenings of the year and we took full advantage. A glass of wine and appetizers on Tark's patio to celebrate our first Fashion Friday Fun!
Where should we venture to next?
Be on the look out for more Fashion Fridays!
Credits