If a person's email signature mentions five businesses, you know they lead a very busy life and wear a lot of hats! 25 years ago, when Mariah Calagione and her husband, Sam, opened Dogfish Head, it was the smallest commercial brewery and brewpub in Delaware. They started out brewing 3 little kegs of beer at a time, 3 times a day, 5 times a week to keep up with the customers at their brewpub. Small batch brewing turned out to be a blessing, since it let them try out a lot of beer recipes. And the experimentation put them on the path of producing "off-centered ales for off-centered people," which gave their business the funky, non-conformist personality it has maintained to this day.
Today they produce nearly 300,000 barrels of beer annually at their Dogfish Brewery in Milton, Delaware, and operate a distillery a brewpub in Rehoboth Beach, Delaware, and the Dogfish Inn in Lewes, Delaware.
Mariah and Sam recently announced plans to merge their company with the Boston Beer company, whose existing brands include Sam Adams, Truly Tonic, Twisted Tea and Angry Orchard Cider.
If you are headed to the beach, save time to visit the Milton brewery – they offer 25-minute and hour-long tours and tastings. And definitely let's have a WDP meet-up at Chesapeake & Maine, their brewpub in Rehoboth, Delaware!
Women's Daily Post asked Mariah to talk about what shaped her and put her on the path that led her to be a successful businesswoman and entrepreneur.
When you were a little girl what did you think your life would be like?
When I was a little girl, I wanted to be an astronaut or a supermodel. I was definitely drawn to careers that required exotic travel! Now, if I could do a career switch, I'd want to be a meteorologist. I am intrigued by weather patterns.
Can you share something about yourself that defines who you are?
I am defined, in many ways, by the people I surround myself with. My family, my friends, my co-workers. They are my everything. They make me laugh hard, love hard and work hard.
What advice would you give your young self?
Very few decisions in life are permanent. Don't sweat the small stuff, but don't coast through life either. Be engaged in something. Not sure what? Doesn't matter, just find something and it will likely lead to something else. Before you know it, you'll have created your own path in life.
What twists and turns did you encounter that changed your plan?
Originally my husband & I were going to open our business in Providence, RI. We had a business plan and were touring locations. Out of the blue we got a call saying that another group who was planning to open a brewpub in coastal Delaware was no longer going to do so. After a brief conversation, we decided to move our concept to Rehoboth Beach, where we could be the first brewpub in the state since Prohibition. Our company will celebrate 25 years in business next year.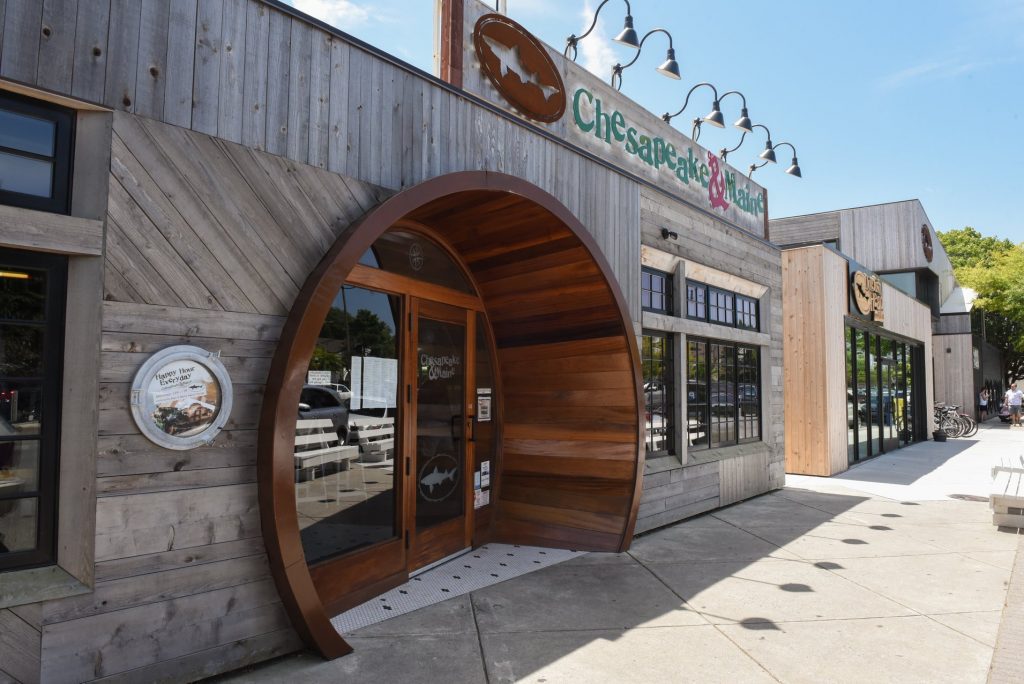 What obstacles did you overcome?
Our main challenge was finding a landlord and bankers who wanted to work with a young couple with zero experience running a business. We ended up finding a great landlord who agreed to a lease with an option to buy our building in 5 years (Based on her previous string of tenants, I don't think she thought we'd actually last that long!). We also tweaked our business plan to open with a smaller brewing system, since that was all our limited capital was able to support. In hindsight, it was great because we didn't have nearly as much debt as would have in our original plan. When the first shakeout came in our industry, we were able to navigate it because we didn't have high levels of debt to service.
What is the best advice you have ever gotten?
It wasn't so much advice, as it was behavior modeled by my family. Every adult in my family was very engaged in their community. My mom volunteered in our schools (there were four of us!) and started the Delaware Music School, which is still thriving today. Outside of his day-to-day job, my Dad was engaged in state politics and land conservation. My grandfather was a volunteer firefighter and my grandmother volunteered to support the local hospital. Over the years, I've been actively involved in many local organizations (at times, way too many!). I've learned great lessons from every single one of my volunteer experiences.
How do you manage a work / life balance?
Not well, but that's okay. My husband and I are lucky to work in a dynamic and fun industry, and we work together! Outside of our work days, many of our evening and weekend activities center around our work – but let's be clear, that involves eating, drinking, listening to live music, travel and more. Our two kids have grown up in and around the restaurants, the brewery and they have traveled extensively with us on work-related trips.
Please tell us about Dogfish Head.
My husband and I founded Dogfish Head in 1995 with a brewpub in downtown Rehoboth Beach, DE. We launched a stand-alone brewery in 1997 and began packaging and distributing our beers. We now sell in more than 40 U.S. states. We also now have a distillery, Dogfish Head Distilling Co., The Dogfish Inn, a small hotel on the harbor in Lewes, DE and Chesapeake & Maine, our sister restaurant adjacent to our original brewpub with 100% of our seafood sourced entirely from the water off Maine and the Chesapeake region.
We re excited about the next chapter with Boston Beer! Our merger with them will allow for growth of our brand and more opportunities than ever before for our 400+ co-workers.
Anything else?????
I have 2 fantastic, funny, creative and smart kids. Our son Sammy is 19 years old. He is a sophomore in college. Our daughter Grier is just about to turn 17 and is heading into her senior year in high school.
I also have 2 of the sweetest dogs in the world; a pug named Kiki and a black lab named Moxie.
Thanks, Mariah!! We look forward to seeing you at Dogfish Head.
Cheers
Mariah Calagione
Dogfish Head Craft Brewery
Dogfish Head Distilling Co.
Dogfish Head Brewings & Eats
Chesapeake & Maine
Dogfish Inn