As the trees turn glorious colors and the air is crisp and earthy, we begin to long for the deep, rich flavors of fall cooking. Few dishes say "fall" more than a pot of butternut squash soup simmering on the stove.
Most butternut squash soup recipes have butternut squash, apples, onion and stock (chicken or vegetable) in common. But then they diverge into either a sweeter soup or a savory soup.
Which is your favorite?
For those who love to bring out the sweetness in the apples…
APPLE CINNAMON BUTTERNUT SQUASH SOUP
Serves 8. Pictured above.
Ingredients
8 C Butternut Squash, peeled, seeded and cubed (about 2 medium squash, or about 2 ½ lbs. of pre-prepped squash)
1 large apple (or 2 small, you can't go wrong), peeled and cubed
1 large onion, cut into 1-inch pieces
2 T brown sugar
¾ t salt
¾ t ground cinnamon
Dash black pepper
3 C chicken broth (you can substitute vegetable broth)
¾ C milk
6 oz plain Greek Yogurt
Garnish: 2 T chopped fresh chives and pumpkin seeds (optional)
Instructions
In a large pot, mix butternut squash, apple, onion, brown sugar, salt, cinnamon, pepper and broth. Cover, bring to a boil over medium heat. Reduce heat and simmer about 20 minutes or until squash is tender.
In 3 batches, blend soup in a food processor until smooth. Return to pot, add milk and yogurt. Heat over low heat until warmed through.
Serve garnished with chives.
Or if you want a soup with more zing to it, try this one…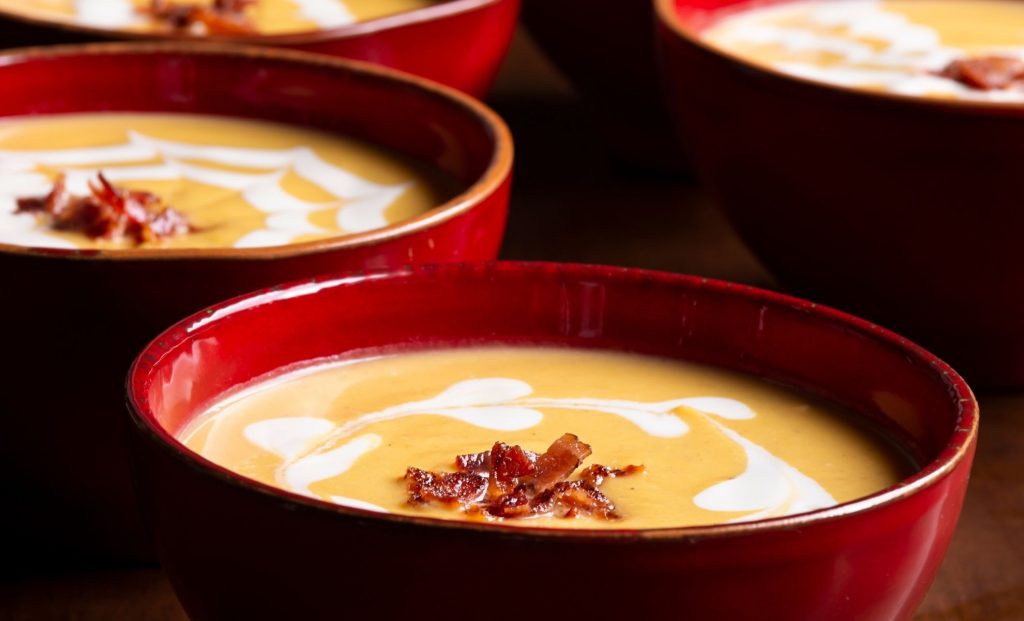 SAVORY BUTTERNUT SQUASH AND APPLE SOUP
Serves 8
Ingredients
1 T butter
1 medium onion, cut into 1-inch pieces
2 lbs. prepped Butternut Squash (peeled, seeded, cubed)
4 red apples, chopped
2 t Kosher salt
1 ½ t cumin
½ t coriander
¼ t black pepper
½ t ginger
¼ t cayenne pepper
2 C chicken (or vegetable) broth
2 ½ C water
Garnish: jalapeno slices (optional), crisp bacon, and sour cream
Instructions
In a large pot, sauté onion in butter for 3 – 4 minutes. Add squash, sauté another 10 minutes stirring occasionally.
Add apples, all the spices, stock, and water and bring to a boil. Reduce heat and simmer 30 minutes. Puree in batches in a food processor. If the soup is too thick, thin with water.
Serve garnished with jalapeno slices (optional), crisp bacon, and sour cream.
Turn Butternut Squash Soup into a dinner by adding a hearty fall salad. Like the soup, salads can be sweet or savory. Mix it up – sweet or savory soup and the opposite for the salad.
Roasted pears and a little brown sugar add sweetness to this fall salad.
ROASTED PEAR AND GORGONZOLA SALAD
Serves 8
Ingredients
4 pears (I use Bartlett but you can use any variety)
1 T melted butter
1 T dark brown sugar
¾ C toasted walnuts or pecans (toast in a dry skillet over medium heat for 6-8 minutes, stirring a few times)
8 C salad greens – any fall variety
½ C dried cranberries
¼ C crumbled Gorgonzola (increase to ½ C if you really like the flavor)
Instructions
Preheat the oven to 400 degrees. Cover a rimmed baking sheet with aluminum foil or parchment.
Cut the pears lengthwise into quarters, remove seeds and core. Cut the quarters lengthwise into 3 thin slices. Toss with the melted butter and brown sugar, spread on the baking sheet and roast for 12-15 minutes until just tender.
Combine salad greens, cranberries, toasted walnuts, crumbled Gorgonzola.
Toss with your favorite vinaigrette (I use Blush Wine Vinaigrette) and top each serving with roasted pears.
Spiced pecans and bleu cheese give this salad an interesting kick:
SALAD WITH MANDARIN ORANGES, STRAWBERRIES, BLEU CHEESE AND SPICED PECANS
Served with Honey Dijon Vinaigrette. Serves 8.
Spiced Pecans
Spiced Pecans: Soak 1 C pecans in water with ¼ C sugar for 10 minutes. Mix together 2 T sugar,
1 T chili powder, and 1/8 t ground pepper. Shake pecan halves with spice mixture and bake for 10 minutes on a pan covered with parchment. They will be sticky.
Salad
Top 2 bags mixed greens with 2 cans Mandarin oranges (drained), strawberry slices, crumbled bleu cheese (try ¼ C, more if you want more flavor), and spiced pecans. Toss in your favorite vinaigrette, or try our recipe for Honey Dijon Vinaigrette.
Honey Dijon Vinaigrette
Combine ½ C Balsamic vinegar, 3T Dijon mustard, 3 T honey, 2 cloves garlic (minced), 2 large shallots (chopped), and Salt and pepper to taste. Slowly whisk in 1 C olive oil.