Our crush this week is Hiba Stancofski! Hiba emigrated to the USA as a young woman escaping civil war in Lebanon and transitioned from an early career in research to teaching beach yoga and mindfulness. Her yoga and mindfulness practices helped her overcome childhood trauma, and she is now using them to help families thrive during the chaos of the pandemic.
Tell us a little bit about your background and family
I grew up in Lebanon, a beautiful country on the Mediterranean, but left in my early twenties to start a new life in the States after 13 long years of raging civil war. I got my Bachelors degree in Biology from the American University of Beirut, followed by my Masters in Biology from American University, Washington, DC. I then worked in research at Georgetown University, until I moved to Baltimore with my husband, Erik. I worked at the University of MD for a while, then taught French at a preschool after our first daughter Romy was born, while Erik was doing his surgical residency.
After five years in Baltimore, Erik completed his surgical residency program and we moved to Lewes, DE, for his job. While it was supposed to be a two-year position, we fell in love with Lewes and are still here 23 years later.
"I'm not from Lewes, but I came here as soon as I could."

– Hiba Stancofski
I have a sign that says "I'm not from Lewes, but I came here as soon as I could." Lewes is home for us. We raised our beautiful children here; they are young adults now. Romy just graduated in December with her Masters in Psychology from American University in Washington, DC, and is planning on applying for a PhD after some work experience in her field. Our son Erik-Stephane just graduated from Swarthmore College in Biochemistry and is on the pre-med track. He just started a one-year research position at NIH working on COVID and HIV research while applying to medical schools all over the country. Our youngest Anna is now a rising sophomore at Swarthmore College as well.
We enjoy hiking, traveling, biking and lazy beach days and sunsets when we are home from work.
How did you get into yoga? Or, did yoga find you?
I got into yoga when I was forty. I am an avid runner and I had injured my foot, so I couldn't run any more for a while. I tried a gentle yoga class because I needed to move, and did what I could in that class.. The transformation and emotional healing, along with the physical benefit, were simply amazing. Having gone through a lot of trauma in my childhood, I found the practice to be incredibly therapeutic, and a few sessions later, I was hooked.
From practicing often, my curiosity peaked even more and I wanted to learn more about the philosophy and practice of yoga. Fast forward to 13 years later, I am a 500-hour certified teacher, certified in Vinyasa yoga, yoga for cancer, restorative yoga, yoga for trauma level 1, Reiki level 1 and 2, and mindfulness… with still so much more to learn!! We are all constantly learning and evolving, aren't we? The growth opportunities are out there for us, we just have to be aware of them and to have enough courage to step outside our comfort zone to learn and grow. That's the beauty and the challenge of the journey.
I always tell my kids that everything happens for a reason; to live their lives and edit their story as needed, that it is never too late to change course in life. The journey is about finding what, and who, makes us happy, and to surround our lives with that. Nothing else matters much.
I believe that foot injury 13 years led me to where I am today …and I am still a runner.
You offer yoga classes at the beach! (Really, is there anything better than yoga at the beach?) Can you share a little bit about them and how people can find your classes?
No, there is nothing better than yoga classes at the beach, lol. I am part of the Involution Yoga Studio team, we are five instructors who teach beach yoga in Lewes, 5 days a week 8-9 am at the Roosevelt Inlet (by the Lewes Yacht Club). We try to keep it simple and affordable, so it is a $10 session, no registration required. You just show up with a towel and $10, a smile and sign the waiver that we have on hand.. That's it! It's a beautiful quiet part of the beach, far from cars and traffic. I teach on Thursdays. If you are ever in Lewes, come check it out!
What are three things that might surprise people about you?
I have never tried playing golf. Would love to though!
I have an addiction to Hi C juice boxes.
I love silly dancing. Growing up in the war, I would play Peter Gabriel's "Shock the Monkey," out loud to my whole family and dance like a monkey to cheer everyone up. I still silly dance when I'm cooking – my kids roll their eyes at me now though, lol.
The Birth of I Feel Better Now
You recently wrote a children's book about mindfulness. What prompted you to write the book?
The idea of writing an illustrated children's book is not new. It came about 3 years ago. Here is how it came about…
I had been teaching yoga, working with adults at the cancer community center, at yoga studios and gyms, and with teenagers at the local high school since I got certified to teach. A few years ago, I was asked to teach yoga at our local elementary school. I knew the younger kids would have trouble staying focused if I taught them a regular class for 40 minutes, so I created an engaging act-along story that we acted out in yoga.
It was amazing to watch! Kindergarteners through 3rd graders were so focused and into it for 40 minutes! I came home like I won the lottery that afternoon, just watching those kids doing yoga as best as they could, so in tune with the story. What a gift for kids to be introduced to yoga and its benefits at a younger age, and to see them enjoy class to the extent they did, I thought! I told my husband about my day, and he said I should actually make it into a book. While the idea was very exciting, of course life happens and it sat on my desk for 3 years until the pandemic happened.
Fast forward to a day when I decided to clean my desk because there was nothing to do and nowhere to go… I came across the story. Perfect timing, I thought, to work on this now. I knew the theme would be totally different though. It would have to be something I, my husband, my children, our family and friends were all experiencing at the moment. Something we could relate to. I couldn't wait to start working on this new creative, healing project in the ways I knew best (yoga and mindfulness). "I Feel Better Now" is available to help other families, too.
As families start to emerge after quarantine, there is still a lot of stress and angst with young children because they aren't eligible to be vaccinated yet. Do you have any tips for parents who are coping with this at home? How might practicing mindfulness help?
There is so much angst, fear, and anger brewing yes, amongst children and adults. Everyone is suffering in these very unsettling times. It's like we are on this emotional roller coaster and we can't find our bearing most days. Parents now more than ever need to be patient, loving, and reassuring with their little ones.
It can be so challenging with younger kids who don't understand what is really happening and why they can't see their grandma or play with their friends. The practices of mindfulness are extremely helpful to learn how to deal with life's struggles, both emotional and mental, especially now more than ever of course, with all the vaccination issues, as we are slowly coming back to the new "normal." A mindfulness practice can definitely ease that transition and all the unknowns that come with it. We have tools within us, such as breath for example, that can help us tremendously, to notice, manage, what is going on in our heart and mind, tools that help us be less impulsive, that help us focus more, etc. (I could go on forever with the benefits of mindfulness!).
Simply put, when we practice mindfulness, it helps us find a bit more equanimity, a bit more ease to handle our struggles, and a little bit more clarity when we are so mentally overwhelmed that everything seems so foggy and we can't think straight anymore. Someone once said our brain can be a brilliant master or a terrible servant. It is so true. A mindfulness practice helps us notice things, it is an awareness practice, that helps "de-clutter" our brain and heart.
When I explain it to kids, I tell them just like we shower to clean our bodies every day, a mindfulness practice helps us clean our mind and heart. As human beings, we hold on to so many unnecessary negative thoughts as it is. Now everything is understandably magnified with the pandemic and all the unknowns that come with it moving forward. But what if could train our minds to notice more, to think differently? Mindfulness allows us to do just that. This can be very easily done through informal fun practices with kids, outdoors, indoors, anywhere really. And they don't have to be long. You can start with a 3-minute simple activity and then add progressively.
There are so many fun activities children can participate in to help them train their attention. As long as we approach it with playfulness, curiosity and especially no judgment, no right or wrong, no labelling, it's a start. And just like everything else, the more we practice, the more we are re-wiring our brain to think differently.
There is an old saying that says "Neurons that fire together, wire together." When I was teaching mindfulness to middle schoolers, the teachers participated in all the activities with their students and later incorporated a couple of activities in their daily school routines to keep the practices going long after we were done with the curriculum. The students were more open to everything because their teachers were as well. The parents' willingness to participate wholeheartedly in mindfulness activities is just as crucial. Kids look up and copy their parents in so many ways, whether they realize tor not. That's what they know, see, and hear.
I strongly believe the tools of mindfulness are very useful and essential, for both parents and children. Any time. Not just in pandemic times. I know personally it has helped me immensely through very challenging times in my life.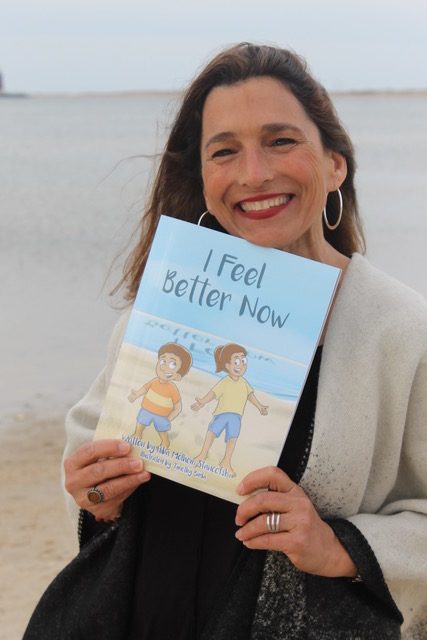 How did mindfulness and yoga help you during quarantine?
In EVERY SINGLE WAY!
My practices of mindfulness and yoga have been very healing for me personally. Ever since I got into yoga, but especially during quarantine.
Personally, on top of the sadness and worrying that came with the quarantine and isolation, my husband Erik was ill this past year – 3 hip surgeries and open heart surgery. I was worrying on so many different levels – his health, the kids' well-being through all this, me staying strong to handle everything with clarity, grace and strength. My practices kept me afloat, grounded, and allowed me to see more clearly when I felt my life was falling apart, many times on some days. Each and every day.
I would take a 30 minute walk whenever I could leave my husband for a bit, and practice mindfulness. It was like my "grounding" mindfulness daily walk, focusing on breath, on my steps, on the senses of smell, and colors. I would do yoga on the beach, on the trail path, even if just 2 postures, a lot of yoga at home too, especially on rainy days, etc. These practices are part of my life and daily routine. Every single day.
One practice I do every day, is a practice of gratitude. Every single day, I would think of 1 thing I was grateful for, despite the chaos and uncertainties and fear in my life. The sun was shining. I was grateful to be able to walk the trail by my house, or walk all the way to the beach. How lucky was I? My friends in the city were in their apartments during quarantine, I thought. Or, I have food on the table. Or my kids are all home from college.. what a gift, this extra time with them. There are always things to be grateful for. I just had to remind myself of that. A practice of gratitude, one of my favorites, is extremely uplifting and calming mindfulness activity. It is an amazing way to rewire and train the brain to think more positively.
My practices are part of my daily life and routine, especially in informal ways. It can be as simple as a brief pause moment such as smelling my coffee aroma before sipping it, or looking at the beautiful sky colors as the traffic light turns red instead of complaining impatiently. It's all choices. Just taking the time to pause for a few seconds every day, make those choices consciously, actually notice what I am doing, and how, or how I am reacting to some bad news… How am I meeting life basically, when it doesn't go my way, with resistance, or with grace? What attitude am I putting forth? Is it grace and a smile or noise, resistance, and grouchiness? The amount of energy is the same. I try to have these pause moments throughout my day. Instead of rushing through life and reacting all the time like we all tend to do.
Slowing down is good, our minds, just like our bodies, need to rest too. Especially during the pandemic, our minds have been tormented. A mindfulness practice helps us reset whenever needed.
Working on the book during the quarantine, especially since it was all about the tools that help us feel better, was incredibly helpful, and exciting. It was truly a work of love, a creative project in times when people were dying and suffering everywhere. I felt like in the midst of this darkness, something good positive and helpful was being born, that would hopefully help adults and kids everywhere navigate these hard times with more ease, just like it was helping me.
I wish I had access to tools of mindfulness and yoga when I was this little scared child growing up in war-torn Lebanon.
I could go on forever with the benefits of mindfulness!
Order Hiba's Book