How sad to learn about a fabulous restaurant because it closed! Social media posts from Garden and Gun Magazine and Southern Living were abuzz with the news that the iconic Crook's Corner Restaurant in Chapel Hill, North Carolina closed after being unable to rebound after COVID.
All of the articles mentioned that the former owner, Bill Smith, was generous in sharing the most popular recipes from the restaurant, their Shrimp and Grits and Atlantic Beach Pie. Being huge fans of Shrimp and Grits and always looking for a good new pie recipe, we immediately looked them up. He did share them freely – there were at least 20 publications that had them. They sound just fabulous.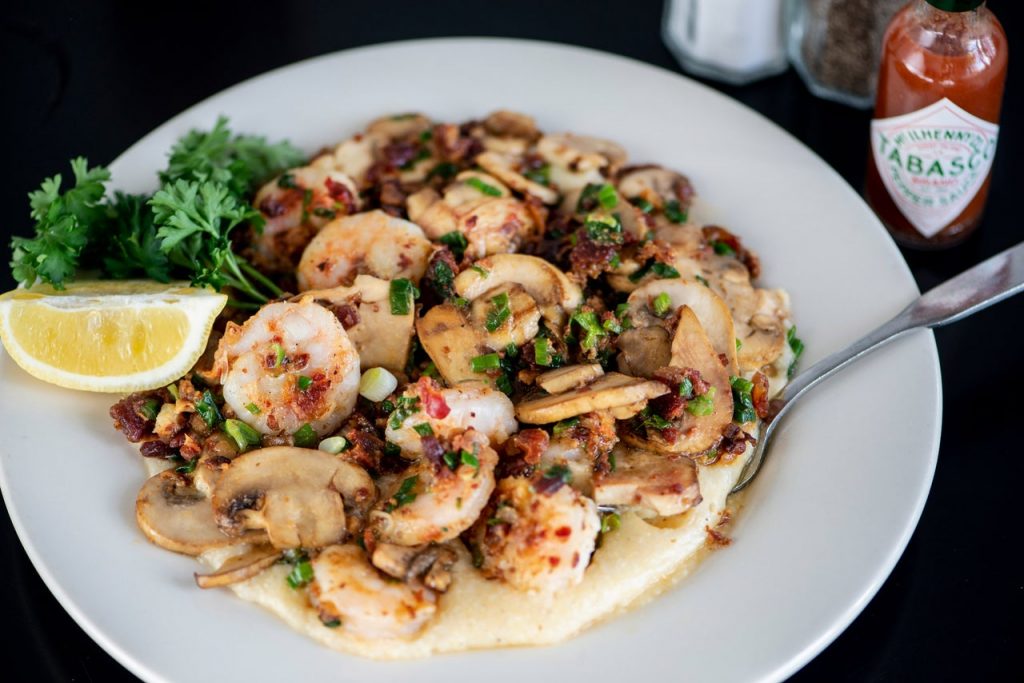 CROOK'S CORNER SHRIMP AND GRITS
INGREDIENTS
2 C water
1 (14.5 ounce) can chicken broth
3⁄4 C half-and-half
3⁄4 t salt
1 C regular grits (can use quick grits)
3⁄4 C shredded cheddar cheese
1⁄4 C grated parmesan cheese
2 T butter
1⁄2 t Tabasco sauce
1⁄4 t white pepper
3 slices bacon
1 lb. medium shrimp, peeled and deveined
1⁄4 t black pepper
1⁄8 t salt
1⁄4 C flour
1 C sliced mushrooms
1⁄2 C sliced green onion
2 cloves garlic, minced
1⁄2 C fat-free low-sodium chicken broth
2 T fresh lemon juice
1⁄4 t Tabasco
Lemon wedges
DIRECTIONS
Bring first 4 ingredients to a boil in a medium saucepan; gradually whisk in grits; reduce heat and simmer, stirring occasionally, 10 minutes or until thickened; add cheddar cheese and next 4 ingredients; set aside but keep warm.
Cook bacon in a large skillet until crisp; remove bacon and drain on paper towels, reserve 1 tablespoon of drippings in skillet; crumble bacon and set aside.
Sprinkle shrimp with pepper and salt; dredge in flour.
Sauté mushrooms in hot drippings in skillet 5 minutes, or until tender; add green onions and sauté 2 minutes; add shrimp and garlic and sauté 2 minutes or until shrimp are lightly brown; stir in chicken broth, lemon juice and hot sauce and cook 2 more minutes, stirring to loosen browned bits from skillet.
Divide grits into 4 large, shallow soup bowls; divide shrimp mixture into four servings and place on top of grits; top each serving with crumbled bacon and serve with lemon wedges.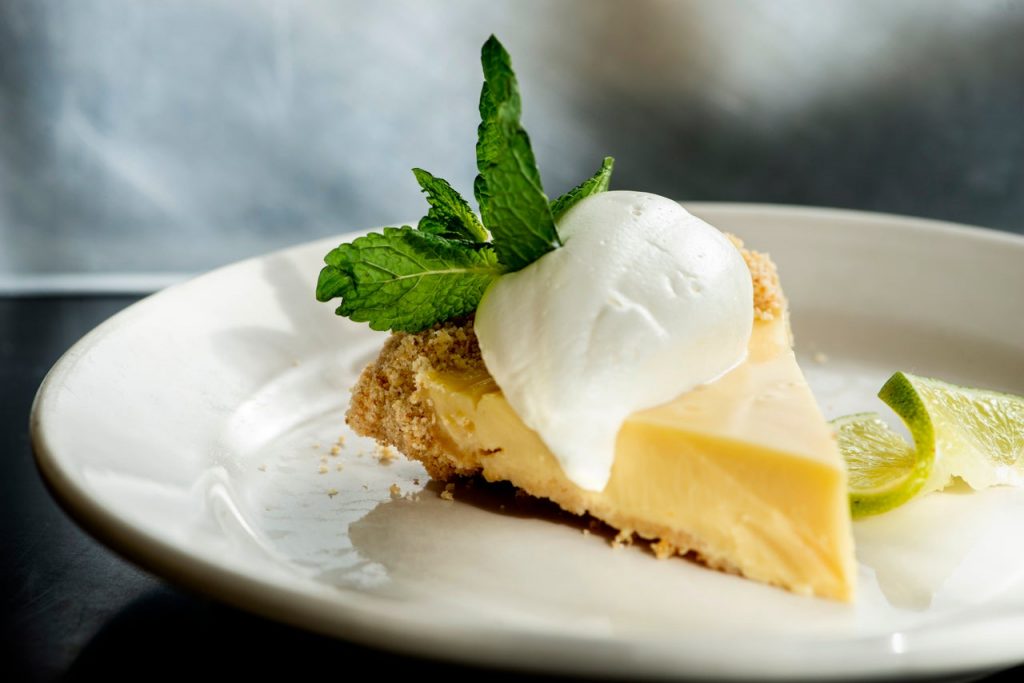 CROOK'S CORNER ATLANTIC BEACH PIE
A Southern Comfort Food pie that's a blend of a Key Lime and a Lemon Meringue Pie. Recipe makes one 9 inch pie.
INGREDIENTS
CRUST
1 ½ sleeves regular salted saltine crackers (about 60 crackers)
3 T granulated sugar
½ C unsalted butter (1 stick), at room temperature
FOR THE FILLING
4 egg yolks
1 (14-ounce) can sweetened condensed milk
½ C lemon or lime juice, or a mix of the two
Pinch of kosher salt
Fresh whipped cream, lemon or lime zest and flaky sea salt, for garnish
DIRECTIONS
Heat oven to 350 degrees.
Make the crust: Using a food processor or your hands, pulse or crush the crackers finely. Add sugar, then add butter.
Pulse to combine or work the butter in with your hands until the crumbs hold together like dough.
Press into and up the sides of a 9-inch pie pan. Freeze for 15 minutes, then bake for 12 to 15 minutes or until the crust gets a little color.
Make the filling: While the crust is cooling to room temperature, in a medium bowl, whisk egg yolks into condensed milk, then whisk in the lemon or lime juice (or both), and salt, making sure to combine them completely.
Pour into the shell, and bake for 14 to 16 minutes until the filling has set. Refrigerate until completely cold, 4 hours up to overnight.
Serve with fresh whipped cream, lemon or lime zest and a sprinkling of flaky sea salt.
Bill Smith has written a cookbook with his recipes, Seasoned in the South. You can find the book on Amazon (paperback, Kindle, and used editions). Images courtesy of the Crook's Corner website.