The summer is ending with a challenging week. Changing to a "familiar, but not so familiar" back-to-school schedule (but it's so wonderful to see all the posts of smiling kids in their 1st day outfits). The weather threw curves at us. And for some, September 1st means a return to offices for the first time in a year and a half.
We are all totally due for a relaxing holiday weekend, and we have found the perfect accompaniment…
BOOZY POPSICLES!
Ice pops, made with your favorite fruits and drinks, but turned into an adult version with the added kick of your favorite alcohol.
HOW TO MAKE THEM:
So easy! Puree all the ingredients in a blender, except alcohol. Make sure all your fruit pieces are completely pureed; lumps of fruit will freeze into small rocks. Add the alcohol and use a funnel to pour the mixture into freezable bags. Freeze for at least 6 hours or overnight.
We like the freezer 2" x 8" tube bag method. You can use wooden sticks and make traditional popsicles, but as the popsicle warms up out of the freezer, the wooden sticks will slide out easily (and plop!).
This set from FROZIP has 125 freezable tubes and a funnel to make pouring easy.
WONDERING WHETHER ALCOHOL WILL FREEZE?
Most home freezers are set to 0⁰, which brings the temperature of the liquid down to where it will freeze and solidify the alcohol in it. Use a 4:1 ratio of mixers to alcohol. Above that temperature, or with more booze, plan on having slushies instead of popsicles.
PRO TIP: Remember wine has a lower alcohol content, so you can cut back on other liquids and use a higher wine to fruit ratio.
The recipes below are just a beginning. You can experiment with any combination, and probably the worst thing that can happen is that you'll end up with a delicious slushie rather than a frozen hard popsicle.
POOLSIDE PROSECCO POPS
Beat the heat with these refreshing pops. You can substitute your favorite fruits: mango, watermelon, pineapple, any berry.
INGREDIENTS
2 C strawberries, sliced
1/2 C blueberries
1/2 C raspberries
½ C simple syrup (equal parts sugar and water; bring to a boil and stir until sugar dissolves in the water)
½ C Prosecco
DIRECTIONS
Puree fruit in a blender. Combine the fruit puree, simple syrup, Prosecco, and whisk together. Let stand until Prosecco stops bubbling.
Pour into freezer pop bags and freeze 8 hours or overnight.
PINEAPPLE MINT GREEN TEA ICE POPS
This recipe comes from Nicole Collins, a Baltimore Supper Club member and editor of the foodie inspo blog The Yummy Muffin.
INGREDIENTS:
8 green tea bags (I use decaf) 
8 cups + 1 cup water, divided 
¾ cup sugar 
10-12 mint leaves
1 ½ cups pineapple juice 
1.5 oz. coconut rum for every 6-8 ounces of tea
DIRECTIONS:
Bring 8 cups water to a boil. Once boiling, remove from heat and add tea bags. Steep tea bags for 5-6 mins. Remove tea bags, and set aside.
Meanwhile, add 1 cup water, sugar, and mint leaves to a small pot. Stir to combine. Bring to a simmer over medium high heat, simmer for 1-2 mins. Set aside.
Combine green tea, mint simple syrup (leave the mint leaves in the mix), and pineapple juice. Add rum.
Pour into freezer pop sleeves and freeze 6 hours or overnight.
CREAMY GIN & TONIC POPS
Gin & Tonic, but with a twist – a creamy version!
INGREDIENTS
1 can sweetened condensed milk
1 C limeade
1 C tonic water
1/2 C Gin
Juice and zest from a lime
DIRECTIONS
Combine all ingredients and whisk until smooth.
Pour into freezer pop bags and freeze 6 hours or overnight.
CANTALOUPE AND CAMPARI ICE POPS
Fancy, but so simple.
INGREDIENTS
2 C pureed cantaloupe (need a little over 1 lb. of cantaloupe chunks)
3/4 cup simple syrup (equal parts sugar and water; bring to a boil and stir until sugar dissolves)
1/4 cup Campari
DIRECTIONS
Put the cantaloupe into a medium bowl, and begin adding the simple syrup. Add syrup until the mixture sweetens to your taste. Drizzle Campari in until you taste the Campari. Campari has a strong flavor, so don't overdo it.
Pour into freezer pop bags and freeze for at least 5 hours.
BROCKMAN'S GIN ICE POPS
If you love Bramble Cocktails, you'll love this recipe.
INGREDIENTS:
3/4 C water
3/4 C sugar
3/4 C fresh lemon juice
1 1/2 C blackberries
1/2 C Brockman's Gin
DIRECTIONS:
Blend the first four ingredients until smooth. Add the gin and pour into ice pop bags and freeze.
These recipes will get you started. But experiment – try some combinations like the ones below that are outside your usual cocktail repertoire. You can't mess this up and will probably end up with a very big smile (just don't overdo it too much).
Other Combinations You'll Love
Lacey Anthony, another member of Baltimore Supper Club, has these recommendations:
Pineapple, coconut, spiced rum
Watermelon, mint, lime and gin
Grapefruit, St. Germaine, champagne
Pineapple, coconut, amaretto
For those Who Don't Have Time to Freeze…
And then there will be those who love the idea, but just don't really want to get a bunch of fruit, and get the blender out, and so on. We have a solution for you!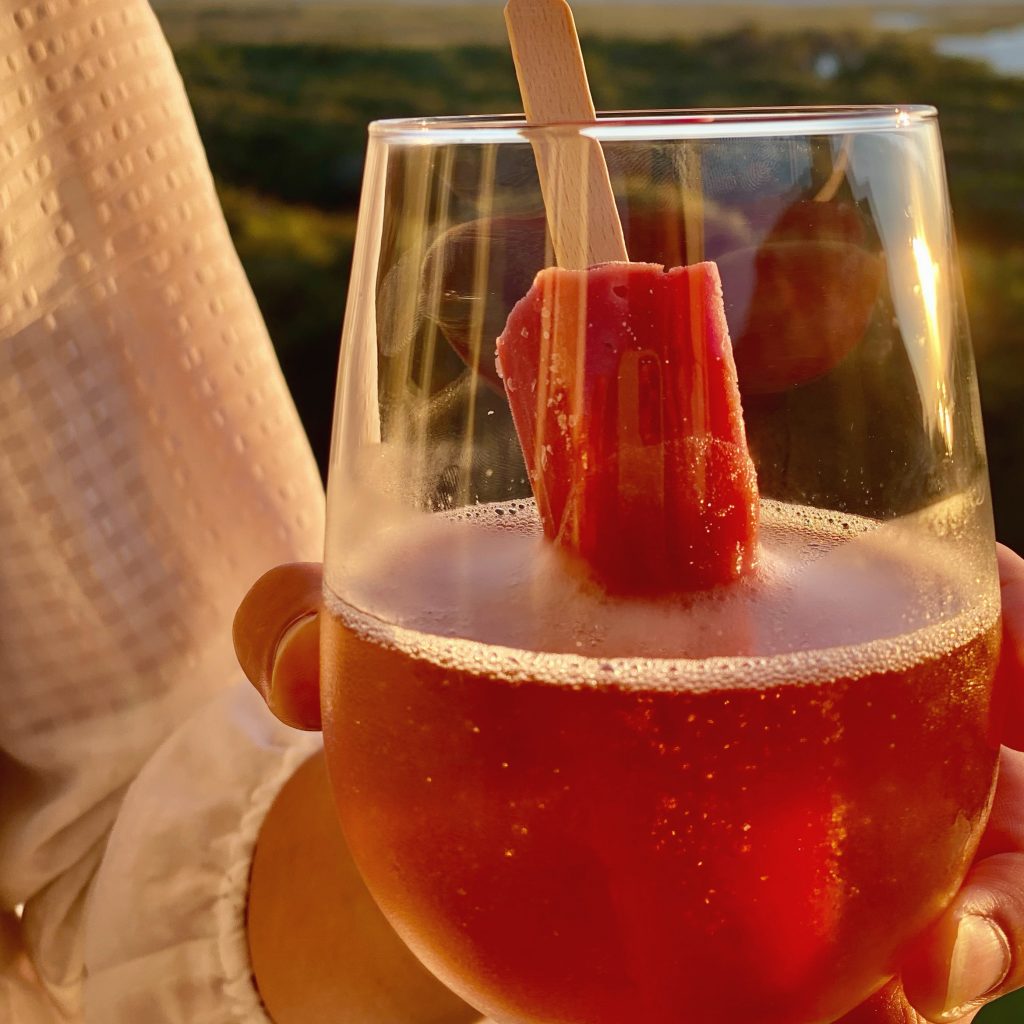 Fruit popsicles dipped into your favorite wine, champagne, or sangria!