This Thanksgiving, help Baltimore Hunger Project provide Thanksgiving Meal Bags to food insecure families in the Greater Baltimore area. Baltimore Hunger Project is dedicated to eliminating the growing problem of weekend childhood hunger by feeding bodies and minds. They bridging the gap between Friday and Monday by consistently providing weekend food packages to children identified as food insecure, in a compassionate and dignified manner. Currently, they support 1,600 students in Baltimore City and Baltimore County.
Building a Thanksgiving Meal Bag is easy! The bag includes a variety of shelf-stable items that a family needs for their holiday meal. Shop with your kids, put everything in a reusable grocery bag, and drop it by Baltimore Hunger Project during business hours. Then BHP will provide it to one of the families they serve — with a turkey!
Bag donations should be dropped off between now and November 15, 2021. Bags can be dropped off Monday-Thursday, between 9 AM and 4 PM. Don't have time to shop? You shop their Amazon Thanksgiving Wish List and have them shipped directly.
Baltimore Hunger Project is located at 9596 Deereco Road, Timonium, MD 21093.
What To Include in Your Thanksgiving Meal Bag
One Roaster Pan
1 Box of Stuffing
1 Can of Cranberry Sauce
2 Cans of Veggies (1 Corn, 1 Green Bean)
1 Large Can of Yams
2 Packets of Gravy Mix
2 Cans of Fruit
1 Box of Mashed Potatoes
1 Biscuit or Roll Mix
1 Can of Fruit Pie Filling
1 Can of Pumpkin Pie Mix
1 Can of Evaporated Milk
2 Shelf-Stable Pie Crusts
1 Coffee, Tea, or Hot Cocoa
Although they don't specifically request it, consider adding a can opener to the bag since not all cans come with tab tops.
Baltimore Hunger Project Flyer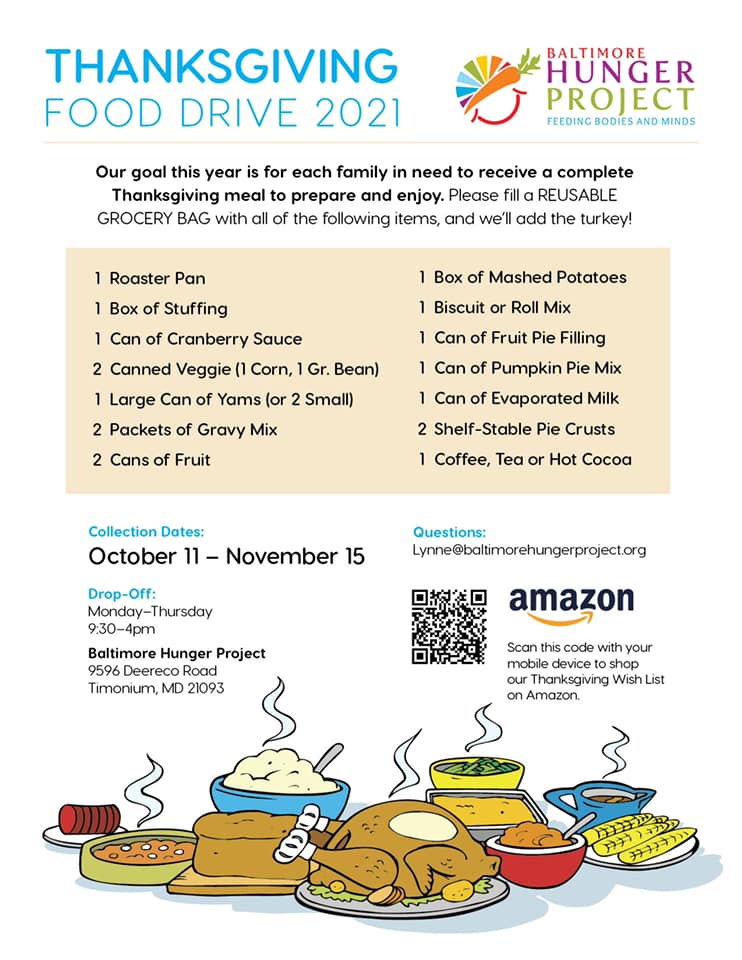 Editor's Note: Photos by Jen Snyder.