Jennifer Nolley is no stranger to the multi-kid juggle. She also knows the joy that art brings to kids. The challenge: to make art-making accessible to own three kids while making it stress-free for parents.
Her solution? Tiny Easel. An all-in-one kit filled with everything families need to create — with easy clean-up in mind!
The Baltimore mom of three drinks her coffee black — unless she's out, and then she splashes in a little cream. She can't live without a paint set (she says watercolor travels the best) and her Nutribullet smoothie maker.
"The name Tiny Easel has so much meaning behind it," said Jennifer. "Nine years ago, I hand-painted 250 tiny easels for all of my wedding guests to be decorative centerpieces and for gifts, inspired by my love for painting and inspired by one of my favorite artist, Monet. I have since loved making tiny easels as gifts for family and friends and now my kids love them, too."
Why does Jennifer love the idea of painting small? Less material, less prep and clean-up.
"Now I get to share my love making art with my kids every day," said Jennifer. "And I get to spread the love with others!"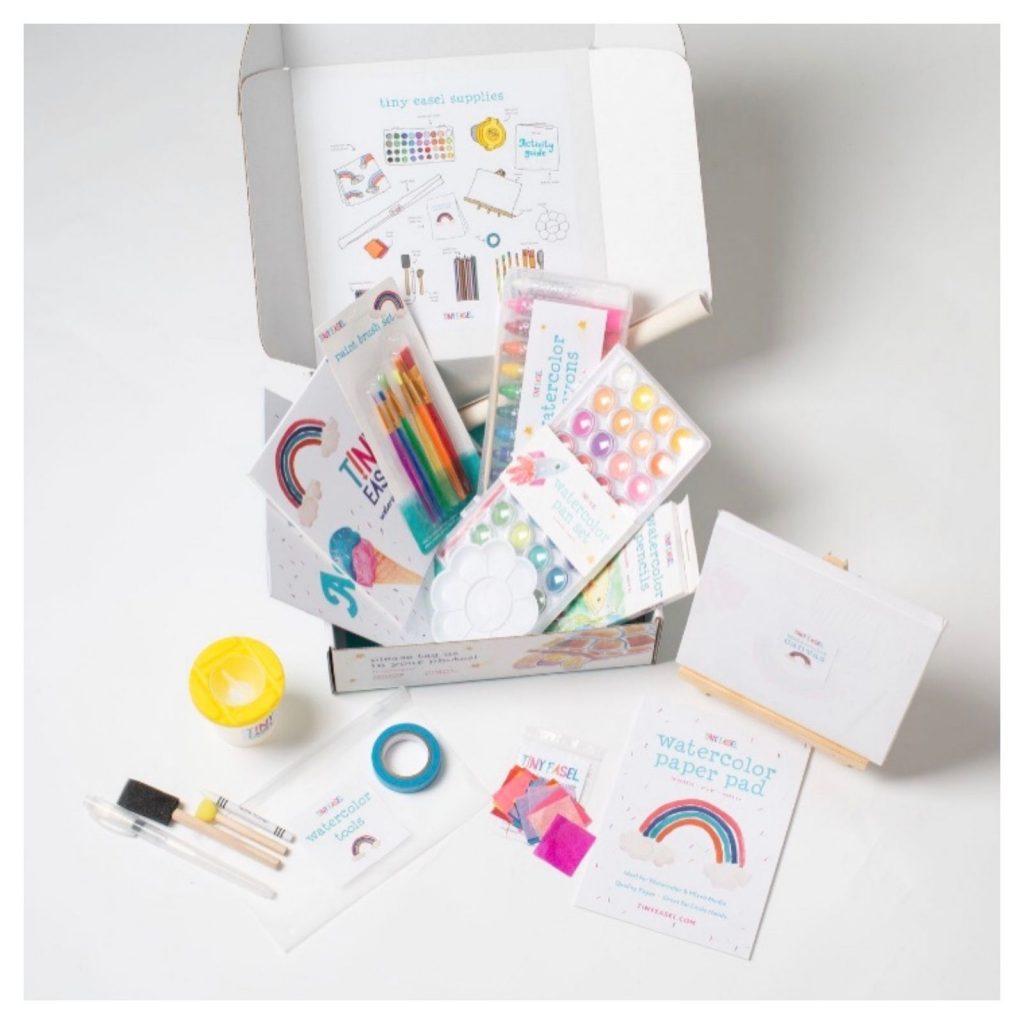 Tell us a little bit about Tiny Easel! Where did the idea come from? How did you bring it to fruition?
Tiny Easel is essentially everything I know and love wrapped up in a box. The whole concept is to make art accessible and fun for kids, but also selfishly created to make it stress-free for parents, while exposing kids to art at an early age. As a busy mom of 3 kids, I wanted to create an art kit that allowed my kids to explore with paints and mixing colors without the worry of set-up and clean-up. It includes a spill-proof water cup, splat mat, a watercolor book designed by myself inspired by places all over Baltimore and is filled with all of the art supplies you need, all in one box. I love seeing how kids dive into art and create their own signature style!
I used all of my skills in illustration, painting, design and love for making art with my kids to create this box. I worked with Ashton Design to help me with the website and my labels. I shared my initial ideas through imagery and sketches and they helped to make my dreams come true! I wanted a website that I could easily edit, so I worked in Squarespace.
Some might be surprised to hear that you decided to launch the product in the middle of a pandemic.What has that been like?
The initial idea came to me while I was on maternity leave with my youngest, George, now 18 months old. (Like, right after I had him!) I was trying to put art in front of my kids while nursing George. I couldn't help my kids with painting and crafts and it was becoming stressful trying to balance it all. So, I quickly started testing out products and materials that allowed them to enjoy and have fun with art, without me hovering.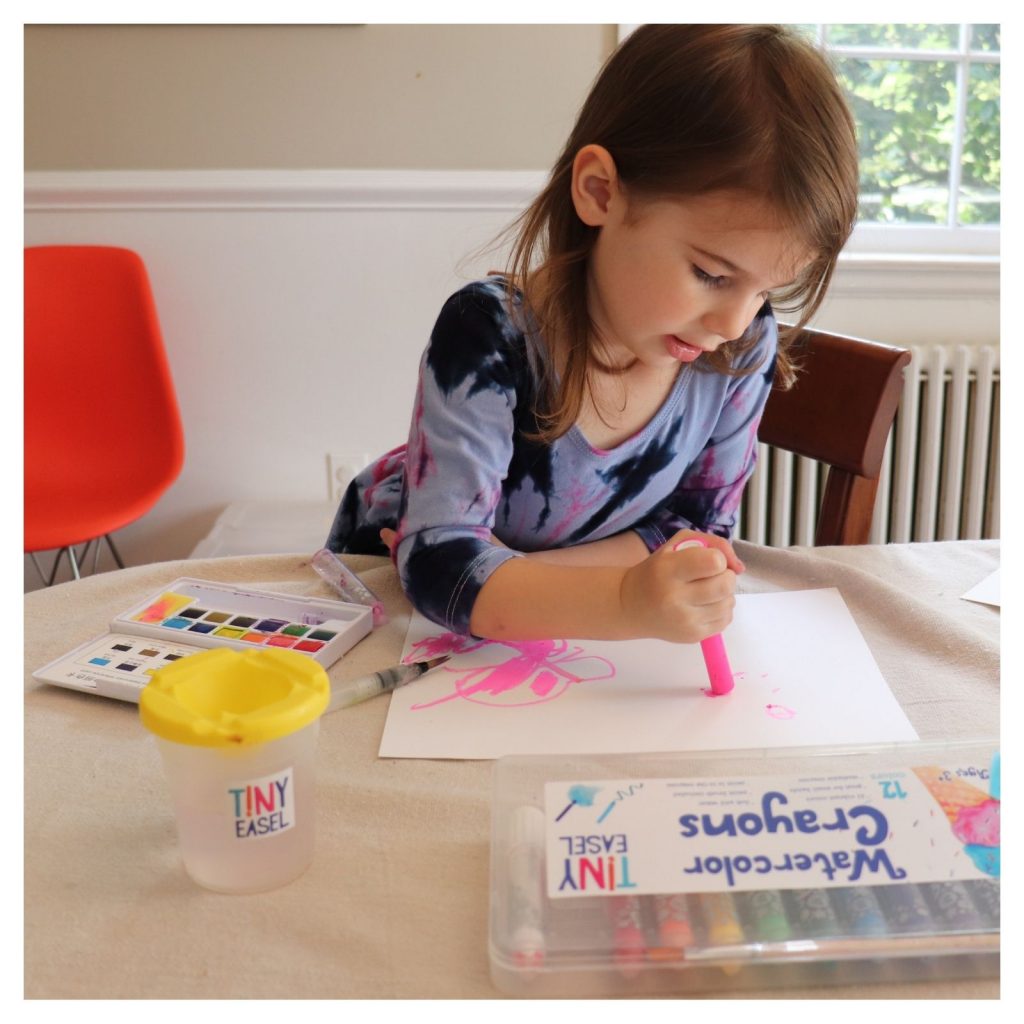 We know it's like asking which is your favorite child, but which product in the Tiny Easel box is your favorite?
I have always loved a small paint set that is portable and easy to take with me wherever I go… so I personally love the traveler paint set.
Since we're on a roll here, we'll go ahead and ask. Who is your favorite child?
They are all unique in their own way 😂 .
One of our least favorite questions to ask is 'how do you balance work, life, and family," because — let's be honest — balance isn't really achievable. We find it's more like surfing. Have any unexpected waves come your way since you launched Tiny Easel? How did you get back on your board?
As I say "the juggle is real!" Every day is different and some are easier than others. I may have an unproductive day and then the next day I get up and try harder. The biggest help is that my husband, Dawson, and I prepare everything the night before and both get up early to workout before the kids wake up. Dawson literally has to drag me out of bed every day !
Tell us a little bit about your family.
I have 3 kids, Elizabeth (7), Kathryn (4) and George (1) and an incredible hubby, Dawson. He and I both share a love for art and design. We both met working in the art department on a film set in Baltimore. We are a real team. I'm not going to lie, it doesn't hurt that he does all of the laundry, loads the dishwasher like it's his job and knows how to use the vacuum cleaner ( I think I have used it twice since we got married).
What's next for Tiny Easel?
Oh boy! What's next? My goal is to continue to make more boxes with different items, create a refill kit, and hopefully some online videos to supplement the kits.
Learn more about Tiny Easel (and order a box for your family!) at TinyEasel.com. Want more ideas for getting creative? Check out our Favorite Things: Creativity Unleashed list!