You know the song – "I can bring home the bacon, fry it up in the pan." Our women of Women's Daily Post did that last Saturday – Maryland-style! They spent the afternoon on the Chesapeake Bay catching 30 Rockfish (Striped Bass), brought them home, put them in the pan, the oven and on the grill, and turned them into amazing dishes.
Fifteen women met for an afternoon charter on Captain Dean's Bay Hunter. No experience was necessary – the good captain supplied all the equipment and know-how, and took them to a spot on the Chesapeake that turned out to be a "fish"-mine. They ate, they drank, they fished and laughed, and all agreed it was a great time and want to go again.
We asked for their recipes and their best tips for cooking a rockfish and got a variety of great ideas.
Submitted By Dara Bunjon
We knew that Dara would turn her rockfish into something wonderful, since she is a real foodie! Dara hosts The Food Enthusiast podcast every Thursday at 12:30 p.m. at facebook.com/jmoreliving. Here are her tips and technique for stuffing and baking a whole fish.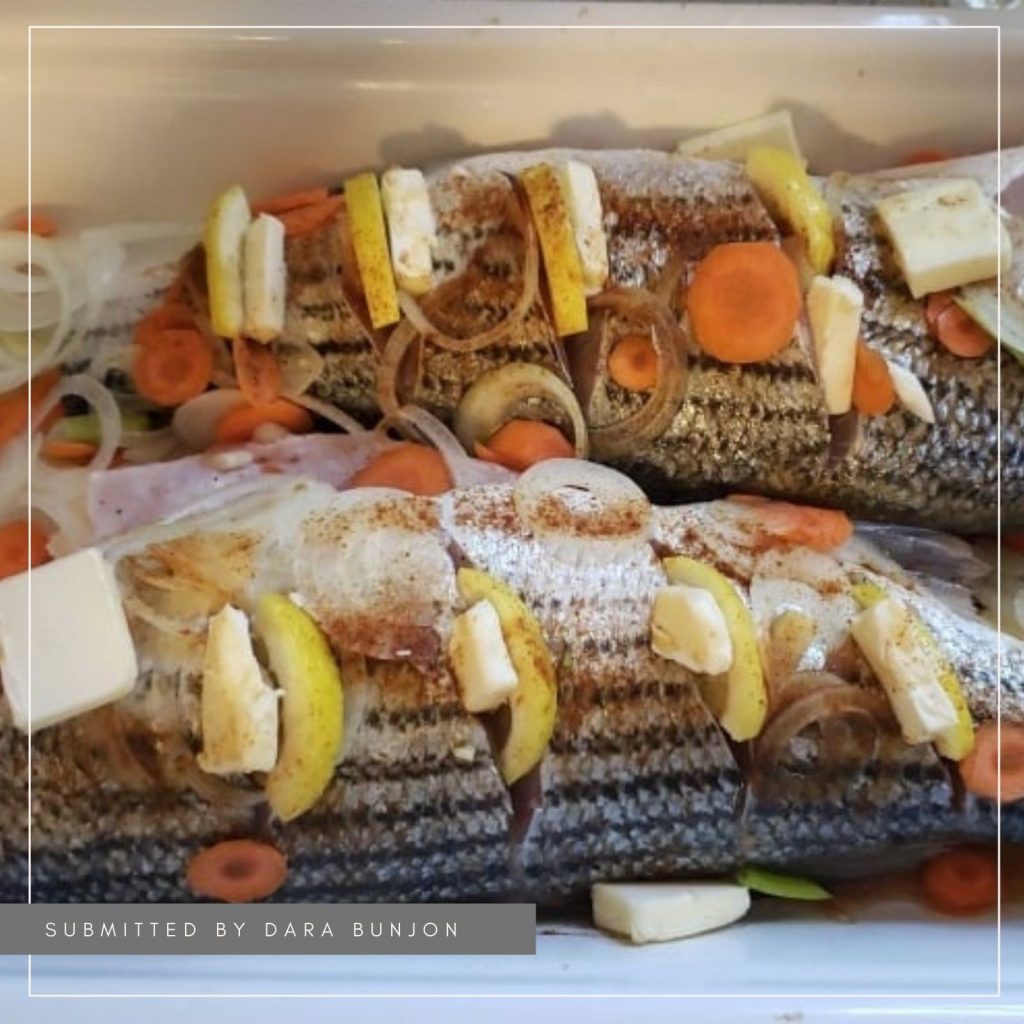 Pan-roasted Rockfish/Striped Bass
You'll need a roasting pan (should be able to hold entire fish) and aluminum foil for this recipe.
Ingredients
Rockfish/Striped Bass – with or without head, scaled and gutted – Slice across the fish, front and back with diagonal slices.
Butter
Onions – thinly sliced
Carrots – thinly sliced
Celery –thinly sliced
Scallions – thinly sliced
Soy Sauce
Rice Wine Vinegar
Lemons – Thinly sliced
Ginger – Thinly sliced
Water
Paprika, Salt, Pepper
Instructions
Pre-heat your oven to 350⁰
Put some of the butter, onions, carrots and celery in the bottom of the roasting pan.
Salt, Pepper and paprika the belly of the fish and stuff with the scallions
Now stuff the diagonal gashes on the top of the fish with lemon, ginger and a pat of butter
Distribute the rest of the onions, carrots, celery around the top of the fish
Drizzle the soy sauce and rice wine vinegar over top of the fish and add some water to the bottom of the pan
Seal the top of pan tightly with aluminum foil and bake until done. In the picture I had two large rockfish and it took just about an hour. You will have to gauge by the size of your fish.*
*baking fish directions usually say to allow 15 minutes per inch of thickness, but Dara's took an hour
Submitted by Ruth Turner
Ruth made Ceviche with her rockfish. "You get a big bang for a little effort," she says.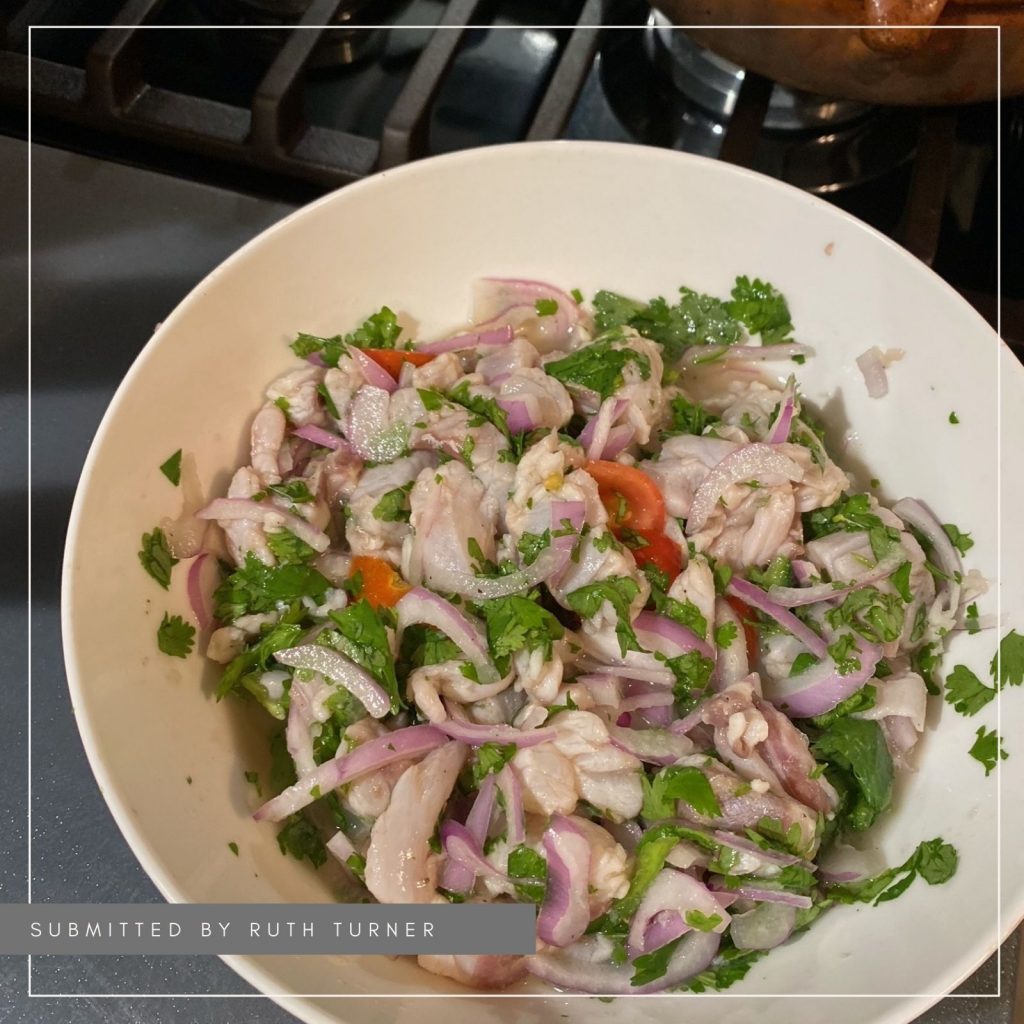 Rockfish Ceviche
Ingredients
3 cups of cubed/chopped fish (Cut the fish into small pieces the size of half your pinky. The idea is no skin and no bones!)
1/2 bunch cilantro (take the cilantro leaves off the stalk and dice them down, into flake size)
½ to 1 jalapeño, de-seed and de-rib on the inside of a jalapeño & finely dice
1 small Bermuda onion, sliced as thin as you can go or use a mandolin
Juice of 3 lemons
Juice of 3 limes
Instructions
Put fish, cilantro, jalapeño, and onion in a bowl. Squeeze the fruit and pour the juice over the fish which will "cook" it in about a half an hour. Add white pepper and a little bit of salt to taste.
Want to make it look flashy? Add small chunks of avocado (right before you eat it) or a handful of quartered cherry tomatoes.
Submitted by Colleen Pietramala
Colleen turned her rockfish into fish tacos that even her picky eater at home enjoyed! Her recipe came from Patrick at Kooper's, a local Baltimore restaurant that serves wonderful fish tacos, and included toppings from Kooper's, but you can substitute grocery store cabbage slaw mix, pico de gallo, and salsa.
Chesapeake Rockfish Tacos
Ingredients
Fish
Flour
Paprika
Parsley
Thyme
Garlic Powder
Salt
Pepper
Old Bay
Egg Wash
Tortillas
Mexican Shredded Cheese
Lime
Kooper's Pico de Gallo, Baja Slaw, and Salsa
Instructions
Heat oil in frying pan over medium heat. Cut fish in "Chunky Fingers" and pat dry
Coat fish with: flour w/ paprika, parsley, thyme, garlic powder, salt, pepper and 2x Old Bay. Dip fish in egg wash and then flour again.
Fry over medium heat for about 2-3 minutes on each side (4 sides for chunk fingers). Cool on a cooling rack.
Put Mexican shredded cheese on tortillas in the oven at 250⁰ F to melt slightly.
Squeeze lime on the fish. Put fish on top of tortillas. Top with Koopers-made: Pico de Gallo, Baja Slaw and Salsa
WaaaLaaa!
Submitted by Susan Miranda
Susan made a sheet pan meal with her rockfish, adding asparagus, lemon and herbs. You can create your own combination with the instructions in Women's Daily Post's  Try It: Sheet Pan Cooking.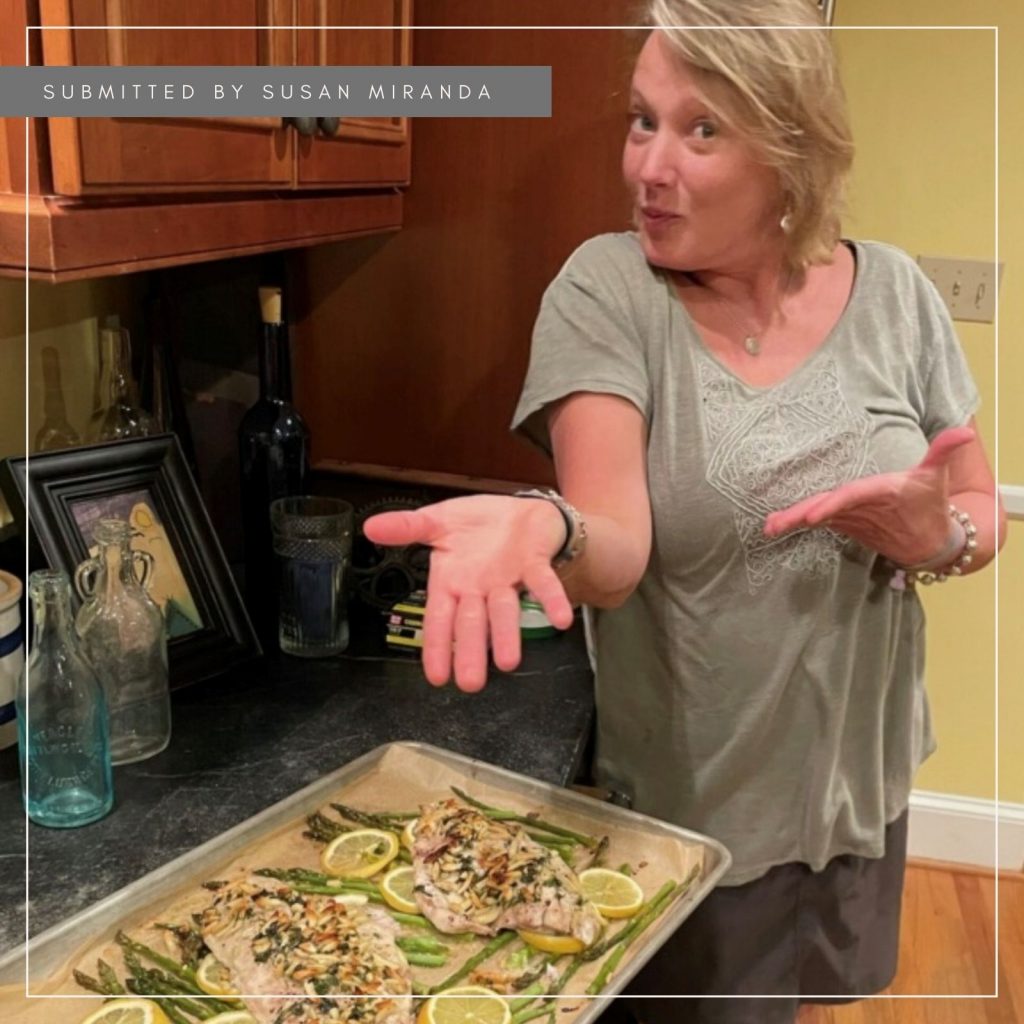 Baked Rockfish Almondine
Ingredients
1 ½ pounds rockfish
¼ cup butter
¼ cup slivered almonds
¼ cup parsley, chopped
3 lemons
1 pound asparagus
Instructions
Preheat the oven to 350 degrees Fahrenheit.
Line a rimmed baking sheet with parchment paper.
Begin to steam your choice of rice.
Cut the bottom 1 in of the asparagus off and discard. Slice 2 lemons, remove any seeds you find. Evenly spread the asparagus along the top of the parchment paper and add your lemon slices on top of the asparagus.
Rinse your rockfish fillets and pat dry with a paper towel. Remove the pin bones from the rockfish fillets, they run lengthwise along each fillet. You can use tweezers and pull the bones out in the same direction that they are pointing. Season both sides with salt and pepper, lay evenly atop of the asparagus and lemons.
In a small sauté pan melt the butter. Add the sliced almonds, juice from the remaining lemon and parsley. Sauté for 3-4 min, stirring constantly. Carefully spoon over each rockfish filet.
Cover your baking sheet with aluminum foil and bake in the oven for 10 minutes. Remove the aluminum foil and bake for another 10 minutes uncovered. Your fish should be able to flake easily with a fork and be evenly colored throughout the filet. If your fish is not like this, continue cooking until it matches the description.
Serve over your rice of choice along with your cooked asparagus and lemon.
Submitted by Liz Herrick
And another great recipe, with instructions on grilling a whole fish!
Grilled Herb-Stuffed Rockfish
Ingredients
3-4 lb whole fish; cleaned and split lengthwise, head and tail left intact
6 tablespoons extra-virgin olive oil
3 cloves of garlic, minced
Coarse salt and freshly ground pepper
2-3 lemons, one thinly sliced, the rest cut into wedges
1 lime, cut into wedges
Handful fresh herbs sprigs (parsley, oregano, rosemary)
1/2c chopped fresh herbs (parsley, oregano, rosemary)
Instructions
Using a paring knife, make long, 1/4-inch-deep diagonal slashes at 2-inch intervals on both sides of fish so it will cook evenly throughout
Rub both sides of each fish with olive oil, garlic, salt and pepper, working the rub all into slashes, the cavity, head and tail
Arrange lemon slices and fresh herbs inside the cavity and press down gently to close the gap
Brush hot grill with vegetable oil; place fish on the grill. Cook, undisturbed and uncovered, until underside is charred and the flesh along gills turns opaque, 5 to 7 minutes.
Turn fish with 2 large spatulas. If it sticks, wait 30 seconds and check again – continue to check until skin sears enough to release cleanly.
Grill the fish on the other side until charred and cooked through and opaque, 5 to 7 minutes more. (If using a thermometer, thickest part of the fish should register 140F.)
To serve, remove the lemons and herbs from the cavity. Let the fish stand for 10 minutes. Gently cut the fillet free from the top of the fish (a large spoon or flat spatula works well) and place on a serving platter. Remove the backbone and other larger bones. Transfer the other fillet to the platter. Drizzle fish with olive oil, sprinkle with chopped fresh herbs, and serve with lemon and lime wedges.
Great work ladies, on the water and in the kitchen!